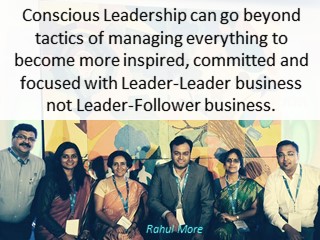 Rahul More about Leadership
- Leadership is a visual and all about creating influence.
- Conscious Leadership can go beyond tactics of managing everything to become more inspired, committed and focused with Leader-Leader business not Leader-Follower business.
Life Philosophy
Willing to develop Orbit Shifters, Challengers, Better leaders and Innovative enterprises in a changing world.
Professional Activities
Dr. Rahul Zumber More is the Senior Innovation Consultant at Erehwon Innovation Consulting, Bangalore, India.
Rahul draws on expertise in innovation management and strategy to help organizations drive their aspirations and passion relentlessly through Orbit Shifting Innovation, a by design method to fuel innovation led transformation.
He plays a role of facilitator, consultant and coach to transform results as well as people. He organizes and delivers Breakthrough Thinking, Generative Teaming, Innovation Boot Camp and critical Innovation Missions to navigate uncertainty from intent to in-market success.
Rahul also serves as an expert, practice leader, AQA assessor and independent director with various organizations to bring needed organizational excellence with performance and growth.
Professional Background
Rahul acquired MTech (Mechanical Engineering) and PhD in Management (innovation and Strategy) from IIT Bombay, India and Chevening Fellow from Oxford University, UK. In recent times, he has brought a unique experience with organizations to build their innovation capability and awaken possibilities among various leaders to achieve quantum growth with Orbit Shifting intervention.
With a cumulative 16 years of professional experience, he effectively connects with leaders, teams and organizations to navigate transformational journey and embed innovation culture. Also he brings on the table – Breakthrough Strategy document, Innovation Roadmap and Architecture to achieve quantum leap.
Prior to Erehwon engagement, Rahul worked at Tata Leadership Centre – TMTC where he designed and facilitated interventions in the areas of creativity and innovation, R&D effectiveness, strategic technology management, business strategy, and operations excellence to various Tata and Non-Tata companies.
Moreover, he has developed three professional institutions and initiated specialized programs at MIT Group Pune with leadership of trust and excellence.