After spending 37 years in the Aviation Industry, (Chelsea College UK, Ethiopian Airlines, Air Zimbabwe, Air Namibia, IATA, and again Air Zimbabwe: 1973-2010), I joined Celebration Ministries International (CMI) as CEO and successfully led that organization through the process of ISO 9001 certification.
A sense of urgency prompted me to focus on my brain child (VLC), a company I had created in 2005 after completing KoRe VenturePreneurship Program at Singapore Institute of Management. The program was authored and delivered by Vadim Kotelnikov, the Founder of Innompic Games
.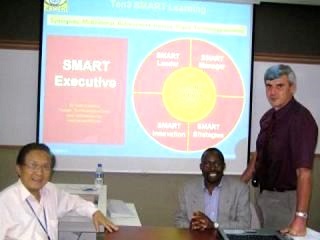 * We Train to EQUIP our customers

* We Consult to SERVE our customers

*We Coach to EMPOWER our customers
Dr. Peter Chikumba is a mission-driven, mature, dynamic, energized and hardworking person and an extrovert who is able to work as part of a multi-discipline team, committed to providing professional service and able to lead a cross-functional team.
A former CEO of Air Zimbabwe and Air Namibia, and the former IATA Regional Director for African Airlines, Peter Chikumba left full time employment to become an Entrepreneur because his greatest desire is to make a bigger difference.
Peter Chikumba has since transitioned into the higher education sector in response to his life calling. He established his company the Vision Leadership Centre (VLC) because leadership & business coaching are his key passions. Peter's desire is to provide leadership and business coaching to individuals, SMEs and large companies. His target market includes Southern African countries like Zimbabwe, Zambia , Malawi, Botswana , Angola, DRC, to mention just a few.
Peter Chikumba is part of a team involved in creating a Global University for the 21st Century to be based in Zimbabwe. He also served as CEO of Celebration Ministries International (CMI) where he introduced a robust Quality Management System (QMS) resulting in CMI being ISO9001 certified . This resulted in CMI becoming the first church organization to receive such international accreditation in Africa.
Peter Chikumba's message for the Innompic Games' video introduction
Innompics has given me the greatest opportunity to be part of something greater than myself. A world I choose to be an Ambassador for, so that generations after me can be inspired by this launch of the century.
Peter Chikumba's own quotes
"Training leaders of Integrity that will train other leaders of integrity is what I eat for breakfast, lunch and dinner."
"If my mouth has nothing positive to say, it's probably best to keep it closed."
"I owe the next generation a grave that will be empty of all that I know today, therefore I give my TIME, TALENT , TREASURE & TOUCH (LOVE) now."
Contact details:
E-mail: peterchikumba@gmail.com ● Tel: +263 772 570 040
Peter Chikumba
Business & Leadership Coach
Vision Leadership Centre (VLC)
2 Zebra Close
Borrowdale West
Harare, Zimbabwe
Mobile: +263 719777900